Vacanze Romane Bed and Breakfast is a small jewel of refinement and care in particulars perfectly located in the Centre of Rome.
The hosts, fond of old toys and posters, offer to their guests the possibility to be accommodated immersed in a warm atmosphere rich of refinement.
Every room, furnished following a particular theme, is personalized and refined so to become a small museum in itself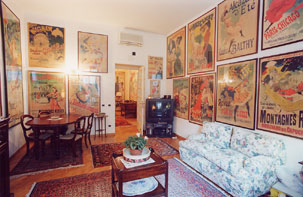 All the spaces are treated with a particular care and offer a cleanliness and refinement standard that hardly you could find somewhere else.
---
Bed and Breakfast Vacanze Romane
Via Carlo Alberto, 26, interno 4, Rome - Italy
Inspected and Approved by APT - Rome Tourist Authority
Tel (Italia Lodging® Booking office): (++39) 06 77250543
Fax: (++39) 06 77591877
E-mail: booking@bbvacanzeromane.it
© Ulisse 2000 S.r.l. - Italia Lodging® - All rights reserved..